Why VAR's Decision To Cancel Marcos Alonso's Goal Was Wrong In Chelsea 3-2 Defeat To Madrid.
Real Madrid grind their way into the semi finals of the UEFA Champions League with a 5-4 aggregate win over the reigning European Champions Chelsea.
The Blues beat Real Madrid 3-2 at Santiago Bernabeu, but Madrid qualified on aggregate.
The West London club almost pulled off a remarkable come back as goals from Mason Mount, Antonio Rudiger and Timor Werner, put them ahead in the tie.
However, Luka Modric unlocked the visitors defence with a moment of magic to allow Rodrygo to level the score and send the game into extra time.
Karim Bemzema then haunted Thomas Tuchel's men once again, notching his fourth goal of the tie to secure Los Blanco's place in the last four.
ChelseAs were too tired to score another, as Kai Havertz, Hakim Ziyech and Jorginho all had chances to score but were not clinical enough. The Blues leave the Champions League but hold their heads high after brilliant comeback.
Why VAR decision to cancelled Marcos Alonso's goal was wrong in Chelsea 3-2 defeat to Real Madrid.
Marcos Alonso scored against the Whites in the clash, but the ball made contact with the spaniards arm before he scored and VAR wiped out the goal on handball.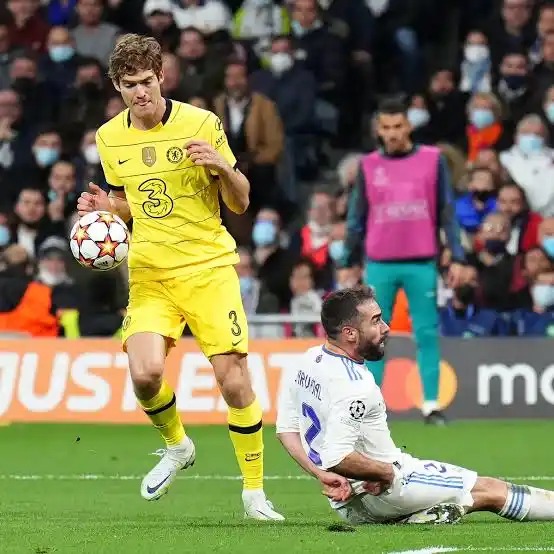 But it was clear that the handball was accidental and the arm was in a natural position, it was a VAR decision so Marciniak was not directly responsible for it. However, he should have went up to the screen and check himself.
We're talking about the Champions League quarter-final after all, it's an occasion a referee has to take responsibility for every officiating decision.
The decision was totally wrong because during Chelsea's clash against Juventus this season Trevoh Chalobah scored from close range, after a corner kick the ball accidentally hit Antonio Rudiger's hand and the ball drop in the part of Chelsea defender who fired into the net, to give Chelsea the lead in the group stages of the UEFA Champions League against Juventus.
Comparing these two incidents the centre referee was totally wrong not to check the VAR to see what happened during the build-up to the goal and take the final decision. Despites their victory against the Blues, they are out of the Champions this season.