The Expected Team Lineup For Chelsea After The International Break
Chelsea has had many injury cases this season. The obvious reasons they couldn't keep up with the fight for the English Premier League's title.
But the good news is that, most of the Blues players who have been out injured could be returning to action after the current international break.
Remember, Chelsea was topping the table before the injury cases stopped them. The probable team lineup for Chelsea after the current international break is as follows:
Goalkeeping department; Chelsea has two world-class goalkeepers judging by their performances this season, but Edouard Mendy has been the number one choice goalkeeper ahead of Kepa Arizabalaga. He will definitely be in goal for Chelsea.
In the defense; the trio of Thiago Silva, Antonio Rudiger and Chalobah will likely lead the defense. Cesar Azpilicueta and Andreas Christensen have been good as well, but they should play from the bench in most of the games. In the left and right backs, Ben Chilwell and Reece James should be used respectively. Chelsea started having bad results this season because of injuries to Ben Chilwell and Reece James. These two players are expected to be back fully after the international break.
In midfield the duo of Ngolo Kante and Jorginho will be very effective. There is a chemistry between Jorginho and Kante in the midfield. While Jorginho is good when it comes to holding and slowing the pace of the game, Kante is good when it comes to counter attacking. This makes their combination very effective. Kovacic plays the same pattern as Ngolo Kante, so their combination will be less effective.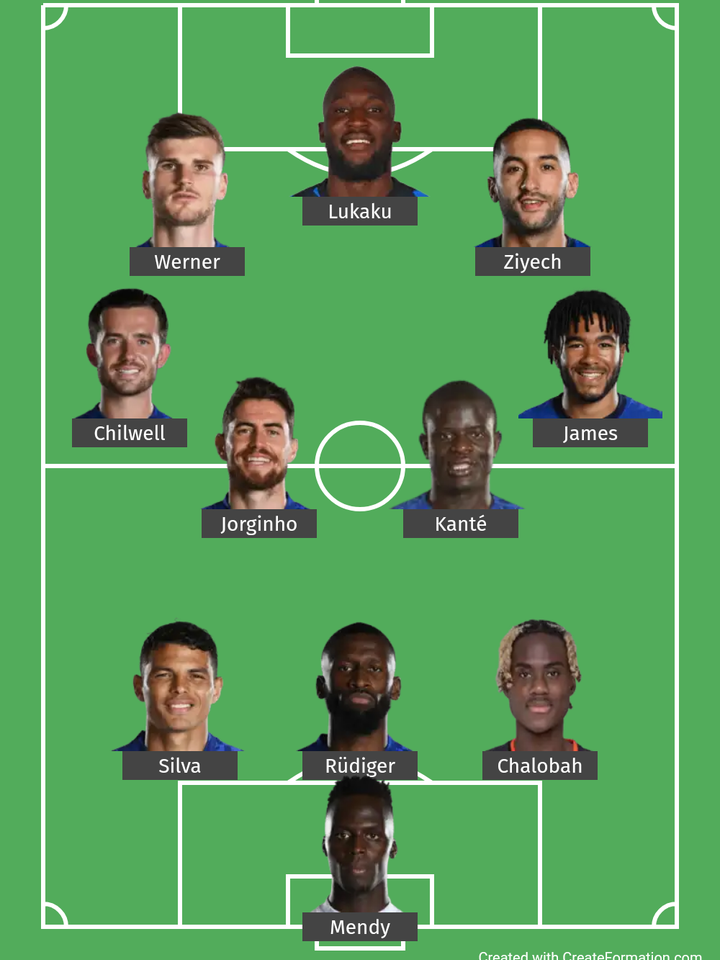 As seen above, the three front players for Chelsea should be Timo Werner, Hakim Ziyech and Romelu Lukaku. So many football fans would want to see Kai Havertz in the lineup, but he is not a better team player as Lukaku is. Lukaku has a way of attracting defenders to himself thereby freeing other attackers.
Timo Werner will score goals if he plays with Romelu Lukaku. Let's have your thoughts on this article in the comments' section.