Harry Kane has told Chelsea stars exactly what they want to know about Mauricio Pochettino
Harry Kane's previous comments on "great friend" Mauricio Pochettino and his style of management will be music to the Chelsea players' ears ahead of his imminent appointment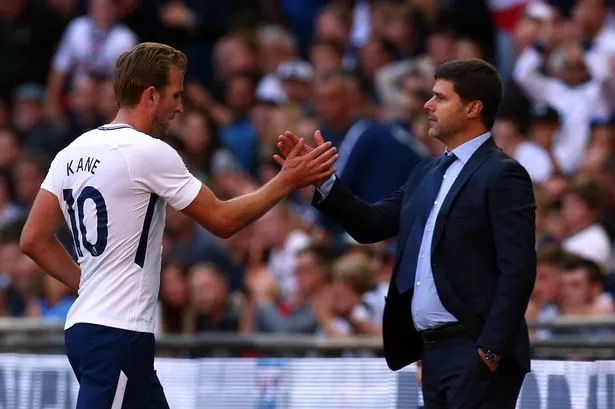 There are not too many people in football who have a bad word to say about incoming Chelsea head coach Mauricio Pochettino.
The Argentine, who is due in London this week to sign a three-year contract at Chelsea, has been without a job in football since being let go by Paris Saint-Germain last year. Pochettino has received several offers to return to management since, but he has been holding out for the right one. After weeks of positive talks with Chelsea over the vacant managerial role, Pochettino has now agreed to become the club's new head coach at the end of the season following Graham Potter's dismissal in April.
The club view Pochettino as the perfect candidate to transform Chelsea's fortunes on the pitch after what has been a dismal season this time around. The 51-year-old will have to use his man-management expertise to try and get some much-needed confidence back into the squad in time for next season.
Interim head coach Frank Lampard has spoken about the lack of confidence and self-belief in the squad at the moment. Following Chelsea's defeat to Real Madrid in the first-leg of the Champions League quarter-final last month, Lampard rued how his side played because of their lack of belief and confidence.
"There was a lot there for us," Lampard said. "As good as they are, offensively such a strong team, but in terms of us when we had the ball, there's a little bit of a lack of belief. I think our players need to understand how good they are."
Chelsea have got some immensely talented players, those who are either world-class already, or well on their way to being so. But this season has seen so many of them underperform. The side needs a system, continuity, stability – that's something Pochettino will hopefully offer when he is announced. Although those things will of course take time.
Pochettino managed to produce all three of those things during his five-year tenure in north London with Tottenham. He created something really brilliant at Spurs and he also felt a special relationship and bond with a lot of his players, including Harry Kane.
In an interview with the Evening Standard in June 2021, Kane said: "We got so close to winning it [the Champions League] with Mauricio. I would love to see him win it [with Paris Saint-Germain]. We had a great relationship. He is a great person, a great friend."
Kane continued: "He was the boss, the leader, the one that set the standards in how we played and how we trained. So friendship would never get in the way of what he did on the football side of things. But we became friends in that the things we did and talked about went beyond football."
Pochettino and his backroom staff – who are all very important to how he works at a football club – will be looking to do the same with his new crop of players at Stamford Bridge. It's something that is imperative because as Lampard said, there's such a lack of self-belief and that of course affects how the players perform on the pitch. Football is such a confidence-influenced sport.
Why the hold-up to announce Pochettino?
As football.london reported on Thursday afternoon, the slight delay in confirming Pochettino as Chelsea's new head coach is nothing to be concerned about. There are just formalities remaining until Pochettino is officially contracted to take over at Stamford Bridge at the end of the season.
The Argentine is expected in London this week to sign a three-year contract with the Blues after agreeing a deal at the weekend. Lampard, though, will remain in charge until the end of the season, with Pochettino set to have the summer to work with his Chelsea squad in time for the 2023/24 campaign.