Every word Graham Potter said on Chelsea win, substitutions, Koulibaly, Fofana, Chilwell, more
Chelsea secured a much-needed victory as a goal from Wesley Fofana secured a 1-0 win over Leeds United at Stamford Bridge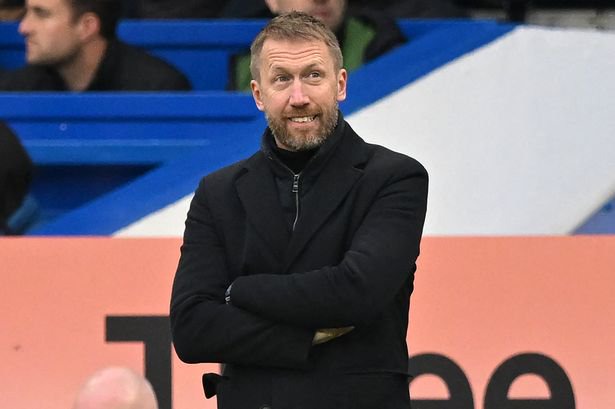 A much-needed victory today, what are your emotions?
"We're delighted with the win, that's for sure. We've had a tough period so I'm delighted for the players and the supporters because they've had to suffer. It was pleasing to get the win. I thought we started the game well and created some opportunities. Playing against Leeds is always tough because they're high-intensity.
When we got the goal, it was a pleasing moment for us all and in the second half, it was a little us having something to lose. That is where you would expect us to be given the run we've had. So in the end, it's really good for the players to keep a clean sheet, win the game, and to have that feeling. It's nice."
Does this feel potentially like a turning point?
"It's a nice three points and an important three points. I think it's good for confidence and morale. The boys have been suffering because they care – they really do – and our supporters have been suffering as well. It's been a tough period for us so the win gives us a chance to recover and prepare for a massive game on Tuesday night. That is what we have to focus on."
You've maintained throughout this period that the players are behind you and you feel their support, was the evidence there throughout the 90 minutes that it was definitely the case?
"Yes, but as I said in the press conference [yesterday] it needs to manifest itself in results and wins. Talk is cheap. I firmly believe in the players and the team but I also acknowledge that the results haven't been good enough and that is my responsibility. So any criticism is absolutely fair and warranted. We have to take it, try to improve, and win. That is the job."
There was some frustration with your substitutions, perhaps they were viewed as defensive. Would that be fair?
"Noni Madueke is on. Carney [Chukwuemeka] is an attacking sub. There were different profiles. Raheem [Sterling] is coming back from an injury so we had to make those decisions. The game got stretched and I wanted us to attack but as soon as you miss the opportunity, you need to be stable.
"We wanted to score the second goal but, at the same time, it was a game against one of the best teams in terms of high intensity in the Premier League. So if the game becomes Hawaii football, up and down, then it can be a challenge. The boys stuck at it and the crowd were great. They want us to do well and win with more comfort. We all want that. But given the moment we're in, it's not so easy to do. But the boys gave everything today."
No Marc Cucurella or David Datro Fofana today, was that just non-selection?
"Yes"
Ben Chilwell is looking back to his best physically, but how hard has it been to get him back to this stage?
"That's sort of what I've been talking about for a while. When you're not winning, it doesn't matter, but the likes of Ben, Wesley [Fofana], Ruben [Loftus-Cheek], Reece [James], and Raheem are all getting minutes in the Premier League. In an ideal world, you'd build that up in pre-season and have five or six weeks of build-up on the pitch.
"We've not been able to do that so they have had to do it in the Premier League. Ben has got stronger and stronger as the weeks have gone on and today I thought he affected the game in a really good way and contributed a lot to our first-half performance."
Is Kalidou Koulibaly beginning to come into form?
"Sometimes it's not easy to land and hit the ground. We all want that to happen but it isn't as straightforward as that. There has been a lot of change and transition here but he is a great guy, wants the team to do well, cares a lot, and I thought he helped Wesley and Benoit [Badiashile]. He showed leadership and calmness which was really important for us. So I'm really happy for him."
Missed chances in the first half, is it because of a lack of confidence?
"It's a combination of lots of things. We hit the bar, keeper makes a good save on a one-vs-one, Wesley is close with a header. The important thing for me is that we attack well – which we did at the start of the first half – and to maintain that over 90 minutes. If we do that, then the goals will come because the quality of the players is there."
In addition to his quality, Wesley Fofana showed real personality today. How important is to have that back in the side?
"We've missed him. I think it was the Milan game at home when he suffered his injury and that was a long time ago. He brings something different: physicality, defends big spaces, allows us to defend a little higher because he has the pace to recover. In the box, he can attack the ball well. He's an important player for us."
Is he someone you see as a leader in the defence despite his age?
"He's a young player and adapting to Chelsea. But he's got the personality."
How big is this win for you personally, Graham?
"I'm delighted for the players and the supporters because they are the most important people at the club. If we don't get results, then that's my responsibility and I accept that. It's been a tough period for us all but it's nice to go home with a win. We now have to prepare for a really exciting game on Tuesday night, which I'm sure will be a fantastic atmosphere and we want to win."