Chelsea target living 'decisive hours' after Blues make huge offer – Transfer 'most likely' scenario
Chelsea submitted a €130m offer for Benfica star Enzo Fernandez yesterday, but the Portuguese club are working to convince the player to stay next month.
That's according to the Portuguese press today as they continue their coverage of the growing race for the Argentina star's signature.
Record report that Benfica are 'determined' to keep hold of Fernandez and are willing to give him a bonus if he decides to stay in the January transfer window.
That would mean rejecting an offer from Chelsea, who yesterday reportedly submitted a €130m proposal for the World Cup winner, €10m more than his release clause of €120m.
That sparked Benfica chief Rui Costa into action and he 'tried to convince' the player that the best thing for him would be to stay at Benfica and instead choose his next destination in the summer.
They say that the player now faces 'decisive hours' given the 'astronomical numbers' that are being put on the table by the likes of Chelsea.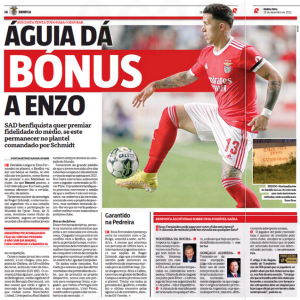 Correio da Manhã, meanwhile, state that Benfica are 'doing everything they can' to keep Fernandez and have even proposed a new deal that would see his release clause increase to €150m.
They confirm that there are proposals on the table above his €120m release clause and that a move to Chelsea or Manchester United is the 'most likely' at this point.
Benfica, though, are working hard to combat that and have offered a renewal which would see his release clause increase and the player receive a 'hefty premium' for signing.
"We want to reward the player. He will be rewarded, a prize for the sporting commitment if he stays, and he knows that. But it's up to him to decide. Our bet is clear," a source close to the club told the newspaper.
CM confirm that Fernandez is yet to make a final decision on his future, instead focusing on the upcoming clash with Sporting Braga.
He is fit and ready to feature in that game but may end up missing out because of his short time off after the World Cup and the fact a possible move to England is 'imminent'.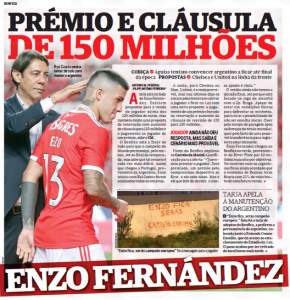 Jornal de Notícias then provide their take on the matter, stating that Fernandez is 'in the sights' of'sharks' such as Chelsea and Manchester United.
They confirm that Benfica are working to keep their man, even though they are 'prepared to receive' proposals higher than his €120m release clause.
Their plan to convince Fernandez to stay includes offering him an increased salary, as well as increasing his release clause ahead of the summer.
According to them, the situation is in the player's hands and there is a belief that the situation'could change at any moment'.
That's because the 'siege' on the club is getting harder to resist and if any interested parties were to 'formalize with a proposal' then the Argentine could be on his way.
They, then, don't believe that Chelsea have submitted a bid as yet.
That's the opposite of what the rest are saying, of course, so perhaps the truth lies somewhere in the middle. What all three do agree on is that Chelsea are one of the main suitors and Benfica are working hard to keep Fernandez out of their clutches in January.