Chelsea Sign Sevilla Defender Jules Kounde on A 5Years Deal
Transfer News: Chelsea  Sign Sevilla Defender Jules Kounde on A 5Years Deal
This summer, Jules Kounde appears to be on the radar of a number of top European clubs.
Since Liverpool signed Virgil van Dijk for a world record fee, the value of central defenders has skyrocketed. Having a massive safety net is essential when football managers plan their attacks like intricate military operations. They're few and far between, but Sevilla defender Kounde is being touted as the next to join that party.
Kounde, who won the Europa League at the age of 21, has helped Sevilla finish in the top four of La Liga for three seasons in a row for the first time since the 1950s, and Los Nervionenses had the best defence in Spain this year. Kounde was the foundation upon which the house was built.
Here are reasons why Jules Kounde would be an excellent addition to the Blues' roster.
1. Aerial Prowess:
Kounde stands at barely 5 feet 10 inches tall, which is small for a modern-day central defender. Now that that's out of the way, his incredible leap and Teflon physique ensure that it won't be noticed until you've seen him.
Since his debut in 2019/20, only two centre-backs in La Liga have won more aerial duels than Kounde (273), (Robin Le Normand on 318 and David Garcia on 460). His height hasn't been an issue so far.
2. Composure:
Kounde, like all future defenders, is a player who just happens to be good at defending. Julen Lopetegui, the manager of Sevilla, has purposefully changed his lineup to allow the Frenchman to press forward and disrupt the opposing lines.
He's clearly better as a central defender, but his comfort on the ball and exceptional quickness explain Didier Deschamps' choice to move him to right-back at times, most notably in France's 2-2 draw with Portugal at Euro 2020 last summer.
3. Take-On Ability: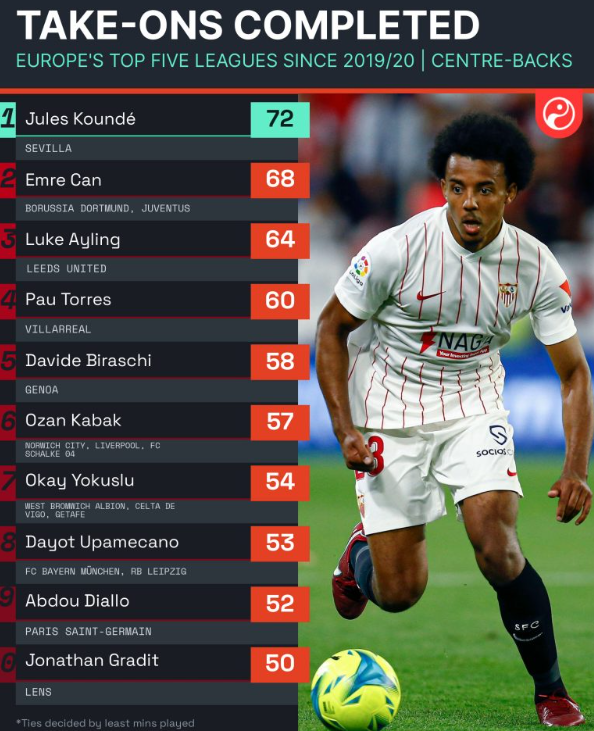 In Europe's top five leagues over the past three seasons, Kounde (72) has completed more take-ons than any other centre-back. The Frenchman is also in the top five for most touches in the opposing box (150), demonstrating Lopetegui's willingness to push him forward. He is self-assured and has no qualms about taking on opponents—and he typically wins. That casts some light on Kounde's image