Chelsea has Reportedly Agreed to Sign Croatian Defender as Azpilicueta's Successor
The most important part of the summer transfer window has arrived, and the top clubs in Europe are already competing for their dream players. Chelsea, like those other clubs, is in a race to reshape their entire roster in preparation for the upcoming season of competition.
The Stamford Bridge heavyweights have been successful in their pursuit of Raheem Sterling and Kolidou Koulibaly thus far. The two players are expected to help transform Tuchel's team into a serious title contender for the upcoming season.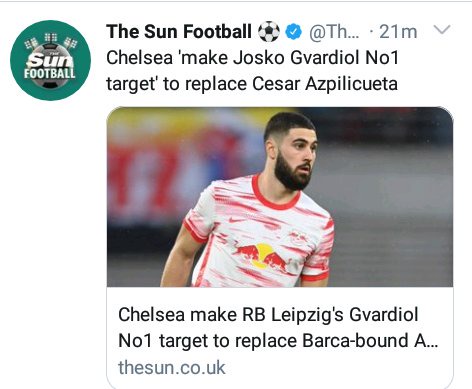 In light of the fact that Rudiger and Andreas Christensen left the club on free transfers, Tuchel has made it his top priority to bring in at least three new centerbacks, and according to recent sources, he is getting very close to achieving this goal.
According to the Sun Football, Chelsea have purportedly reached an agreement to make Josko Gvardiol, the centerback for RB Leipzig, their number one target in order to replace Cesar Azpilicueta, who will be joining Barcelona.
It is said that Azpilicueta is already willing to leave Stamford Bridge for La Liga, which is why it is necessary for Chelsea to sign the 20-year-old sensation who has played 46 times for Rb Leipzig and helped his team win the DFB Pokal and qualify for the UEFA Champions League.
It has been reported that the German club is only asking for a transfer fee of £7 million in order to let the player join Chelsea, who are already in advanced talks to sign Jules Kounde. Chelsea are a heavyweight club based in London