CHE VS LIV: How Chelsea Could Lineup For The PL Clash If They Complete Their Summer Transfer Targets
Mauricio Pochettino will be determined to prepare Chelsea for their game against Liverpool in the 2023-24 English Premier League season opener. After a disappointing previous season, the new manager will focus on improving the team's performance and implementing his tactical approach.
Pochettino will likely assess the strengths and weaknesses of both Chelsea and Liverpool to formulate a game plan. He will study Liverpool's playing style, key players, and strategies used by their manager in order to exploit any vulnerabilities and neutralize their threats.
In terms of player recruitment, Chelsea has already made a significant signing by acquiring Christopher Nkunku from Leipzig. The Frenchman is expected to make his debut in the upcoming game against Liverpool, bringing his skills and versatility to the team.
Additionally, Chelsea is actively pursuing a deal for Moisés Caicedo from Brighton & Hove Albion, although negotiations are still ongoing. Pochettino will monitor the progress of these negotiations and potentially incorporate Caicedo into his plans if the deal is successfully concluded.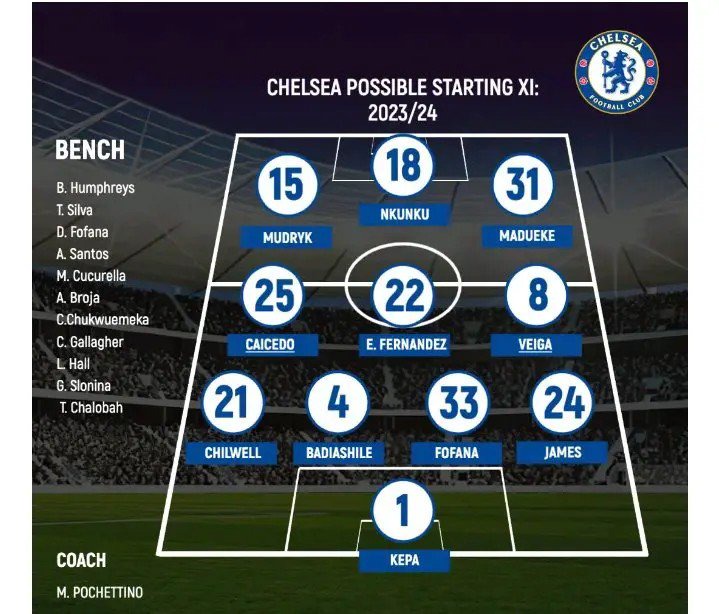 Moreover, the club is reportedly in talks to secure the services of Gabri Veiga from Celta Vigo. If the deal progresses smoothly, the Spanish player will join the squad in time for the match against Liverpool, further strengthening Chelsea's options.
Overall, Pochettino will employ various training sessions, tactical drills, and motivational techniques to ensure that Chelsea is well-prepared both physically and mentally for their highly anticipated clash against Liverpool.