Brilliant Benoit Badiashile leading way for new signings as Thiago Silva partnership blossoms
Chelsea have not conceded a goal in the first 270 minutes that Benoit Badiashile has been on the pitch since his £35million move from Monaco.
His promising early form at Stamford Bridge, Chelsea will hope, hint at better times to come through their new signings.
The arrival of French centre-back Badiashile at the start of last month kick-started a record January spending spree of more than £300m.
After Chelsea were sent spiralling into crisis with defeats by Manchester City and Fulham, Badiashile made his debut in a 1-0 win over Crystal Palace.
After the Blues claimed a further two clean sheets in 0-0 draws away at Liverpool and at home to Fulham, he is building an impressive partnership with Thiago Silva.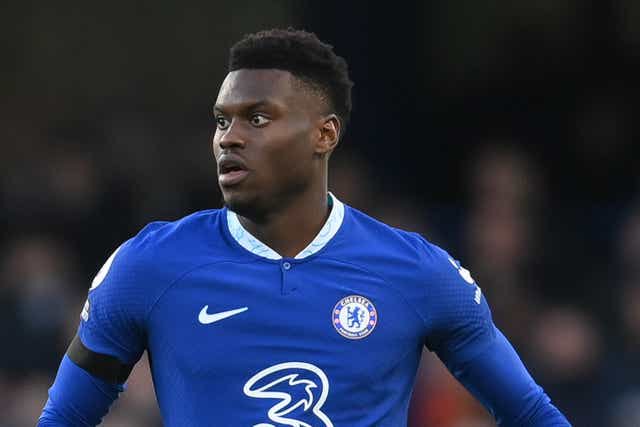 Badiashile was one of five new signings to feature in Friday's 0-0 draw with Fulham. He started alongside £106.8m Enzo Fernandez, who started well but faded over 90 minutes, £89.5m Mykhailo Mudryk, who struggled over 45 minutes while carrying a cold, and £30m Noni Madueke, who was bright after being brought on at half-time.
"What a waste of money" was the regular chant from the Fulham fans in the away end.
That felt harsh in Badiashile's case. With his size and speed, he looks like a perfect partner for 38-year-old veteran Silva.
In addition, he showed the ability to play brilliantly out of Fulham's well-drilled press and he coped in his duels against Aleksandar Mitrovic.
There is still adaption to be done, as Graham Potter barked instructions about his positioning in relation to Silva.
However, using French to communicate with the former Paris Saint-Germain captain, Badiashile has helped steady the ship in the absence of the injured Wesley Fofana, and with Kalidou Koulibaly out of form.
While still only averaging just 1.05 goals per game in the Premier League, Chelsea will draw more than they win unless their new midfielders and forwards step up.
Arriving in the weeks after Badiashile, the likes of Fernandez, Joao Felix, Mudryk and Madueke have not had as much time to adapt to their surroundings.
With Chelsea still in 10th place and increasingly falling behind in the race to qualify for Europe, they must follow Badiashile's lead and hit the ground running before time runs out