10 Ways Tuchel Can Spend The €200M Transfer Funds Given To Him By Todd Boehly & Possible Lineup
According to reports, Chelsea's new owner has provided Thomas Tuchel with €200 million for summer transfer signings.
Thomas Tuchel and his technical teams will have to think critically about how to use the £200m to get all their transfer targets this summer.
Thomas Tuchel knows what he needs to fix in the team and in this article I will offer a suggestion on the ten ways he could spend the €200m transfer funds handed over to him.
1. Sign Sergino Dest:
Let Alonso and Cesar Azipilicueta leave plus receive €10M in a swap deal for Sergino Dest( I've gained a young defender and made €10M profit and released 2 players that are aging and no longer want to be in my team)
Sergino Dest is not an exceptional defender but he has potential and can be developed. After Signing Dest, the balance will become €210M.
2. Sign Jules Kounde for €60M and the balance becomes €150M.
Jules Kounde has been on Chelsea's radar and reports reveal Chelsea will likely sign him this summer.
3. Sign Kalidou Koulibaly my balance becomes €110M.
Koulibaly has been made available for €40M by Napoli, relatively cheap for a world-class player like him.
4. Sign Ousmane Dembele for free and he will become a regular starter in the squad.
5. Man city will definitely sell Raheem Sterling if they receive an offer of €50M- €55M.
Raheem Sterling has Premier League experience and signing Sterling will bring the balance becomes €55M
6. Loan Romelu Lukaku to Inter Milan for €20M and the account balance becomes €75M.
Romelu Lukaku is seriously pushing for an exit as he wants to return to Inter Milan.
To be honest, keeping an unhappy player in the squad will harm the thing, it's best the coach let Lukaku leave on loan
7. Sign Romelu Lukaku's replacement, Gabriel Jesus preferably.
According to reports, Manchester City is open to allowing Brazilian striker Gabriel Jesus leaves the club this summer.
If Chelsea will let Lukaku go, Man City's Gabriel Jesus is a perfect replacement due to the Premier League experience.
Gabriel Jesus is valued at €50m by Man City and signing him for that amount will put the balance at €25m
8. Sell Jorginho if Juventus makes a reasonable bid:
According to reports, Juventus are interested in signing Jorginho. Jorginho's agent has over the years revealed that the Italian would love to return to Italy one day.
Juventus prevent a big opportunity for Chelsea to sell Jorginho and it will bring in fresh funds for the transfer. Chelsea values Jorginho at €50m and if Juventus buys him for that amount the balance becomes €75M
9. Buy Jorginho replacement;
Selling Jorginho means Chelsea will need another Defensive Midfielder, a much younger, strong, and energetic one.
Jorginho is fragile and error-prone and Chelsea fans have been complaining over the years about his flaws. Declan Rice is the perfect player to replace him but West Ham United is asking nothing less than €100 million for him.
Chelsea can't buy Declan Rice because of the price tag but rather will go for a cheaper alternative. Midfielder Ibrahim Sangare from Psv is the perfect replacement and he will cost €45M the balance becomes €30M
10. Invest the remaining money in right-back:
With a balance of €30m remaining and other pressing issues solves, Chelsea could turn their attention to bolstering the right-back position.
Ben Chilwell is back from injury and Emerson has returned which means the left-back position does not require strengthening.
Chelsea should Invest in a new RB in case anything happens with Reece James.
Projected Lineup:
Having gone through these steps, the Chelsea team is ready to compete with the top dogs in the Premier League and Europe at large.
NB: That Conor Gallagher, Armando Broja, and Emerson will all return to the team next season.
One thing Thomas Tuchel should also change next season is his formation. Chelsea should ditch the more defensive 3-4-3 for an attacking 4-3-3 formation.
Conor Gallagher playing in front in the midfield three consisting of Mateo Kovacic and N'Golo Kante while Mason Mount, Raheem Sterling, and Dembele will feature in attack.
First Lineup: Mendy, Reece James, Thiago Silva, Jules Kounde, Ben Chilwell, Kovacic, Kante, Gallagher, Mount, Dembele, Jesus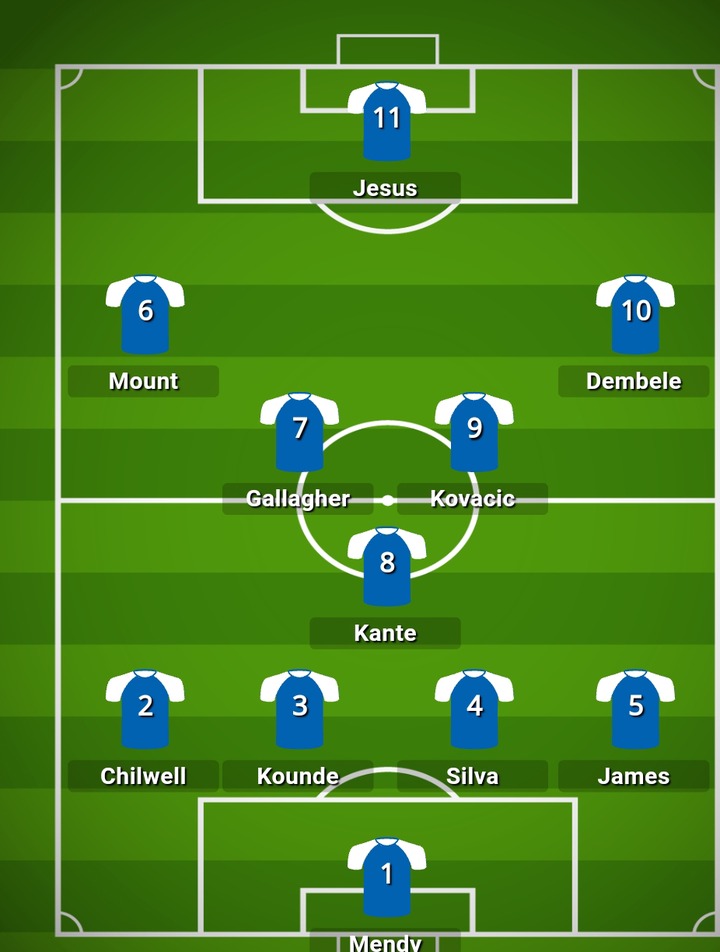 Second Lineup: Mendy, James, Chalobah, Kounde, Emerson, Kovacic, Sangare, Mount, Havertz, Sterling, Pulisic, Broja.